Long Term Care: At home, Assisted Living, and Nursing Home Care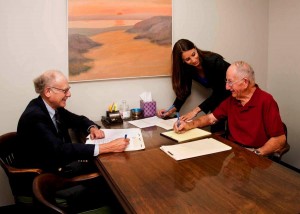 Lots of people are living longer!  The goal, of course, is to live life independently, safely,  and in your own home. Often that is not possible. Many people who live longer need financial or physical assistance to stay at home.  Even with help, there may come a time when it no longer is safe to be cared for at home.  When that happens, the family needs help finding a living arrangement that  provides care in a setting that feels like home.  How do families manage all of this?
If you have young kids you still are raising and parents who are aging, you're caught in the middle. What do you do? You need to run your house, go to work, educate your kids, and pay your mortgage.  How do you add mom and dad to the mix? On the other hand, how can you not add them to the mix? You can't leave them hanging!
If you are the aging mom and dad, what do you do? Your independence is so important. But, what if you know in your heart that you can't any longer manage things without help? You know your kids have their own lives and their own issues and you don't want to burden them; but, what if there is no other choice?
We have years of experience counseling families who face these wrenching dilemmas. We know how to create individualized legal solutions and strategies that protect the assets and autonomy of both generations.  We plan with sensitivity, care, and attention to the uniqueness of each family.
Our team mirrors the generations.  Steve is older, Allison, Nicole, and Staci are considerably younger, and Lori DePaola and Lori Aiello, are right in the middle.